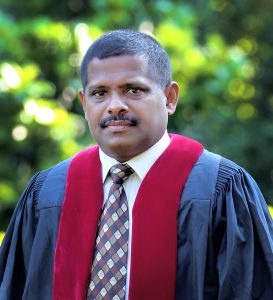 Dr. Dayananda Ambalangodage
Senior Lecturer
Ph D, BBA (Accounting) Special; MBA ; FCA; ACMA, CMA Australia, CTHE
Contact Details
Tel: +94714463947
Email: dayananda27@gmail.com
Teaching Interests
Financial Reporting
Financial Statement Analysis
Financial Management
Management Accounting
Performance Management
Business Ethics
Research Interests
Accounting Education
Management control and Performance Measurement
PUBLICATIONS
Kuruppu Chamara, Pawan Adhikari, Vijitha Gunarathne, Dayananda Ambalangodage, Priyanga Perera, and Chaminda Karunarathn, (2015), Participatory Budgeting in a Sri Lankan urban council: A practice of power and domination, Critical Perspectives on Accounting. The article in press.
Pawan Adhikari, Chamara Kuruppu, Andy Wynne, Dayananda Ambalangodage (2015), Diffusion of the Cash Basis International Public Sector Accounting Standard (IPSAS) in less Developed Countries (LDCs)- The Case of the Nepali Central Government, Research in Accounting in Emerging Economies, vol 15, pp. 85-108.
Dayananda Ambalangodage, David Yong Gun Fie, Kennedy D Gunawardana, (2015) Institutional Isomorphism and Performance Measurement System: in the context of Sri Lankan Water Board , European Journal of Social Sciences, vol 47, no 4, pp. 344-360.
Dayananda Ambalangodage, David Yong Gun Fie, Kennedy D Gunawardana, (2015) Consequences of Performance Measurement System: The Case of Sri Lankan Water Board , World Journal of Management, vol 6, no 2, 2015, pp.108-126.
Dayananda Ambalangodage, and David Yong Gun Fie, (2016), Performance Measurement System and Its contributions to improve performance: in the Context of Sri Lankan Water Board, Global Journal of Contemporary Research in Accounting, Auditing and Business Ethics. The article is in the process of publication.
Dayananda Ambalangodage and Samantha Kumara, 2001, Is Management Unitary or Diverse? Management Accounting Journal, Vol 1, No1, Society of Certified Management accountant of Sri Lanka.
Dayananda Ambalangodage, 2000, An Effective Approach to Teaching, Journal of the Faculty of Humanities and Social   Sciences, Vol 2, 2000, University of Ruhuna. Sri Lanka.
RESEARCH PAPAER PRESENTATIONS
Kuruppu Chamara, Pawan Adhikari, Vijitha Gunarathne, Dayananda Ambalangodage, Priyanga Perera, and Chaminda Karunarathne ,Participatory Budgeting for Fostering Social Capital in the Context of Conflicting interests: The Case of a Sri Lankan Urban Council, Conference on Critical Perspective on Accounting, July 7-9, 2014, Toronto, Canada,
Kuruppu Chamara, Pawan Adhikari, Vijitha Gunarathne, Dayananda Ambalangodage, Priyanga Perera, And Chaminda Karunarathne, Participatory Budgeting for Fostering Social Capital in the Context of Conflicting interests: The Case of a Sri Lankan Urban Council, CIGAR, 2013, University of Birmingham, Birmingham.
3.Dayananda Ambalangodage, Performance Measurement Systems and Survival of Sri Lankan Water Board,  9th International Management Control Research Conference 2013, Nyenrode Business University, Netherlands.
Dayananda Ambalangodage, David Yong Gun Fie, Kennedy D Gunawardana, (2015) Institutional Isomorphism and Performance Measurement System: in the context of Sri Lankan Water Board , 11th Asian Business Research Conference, December 2014 held at BJAM foundation, Dhaka, Bangladesh.
 Dayananda Ambalangodage and Saman


---