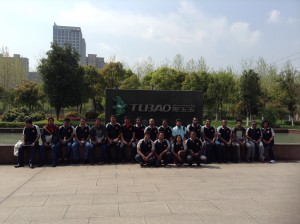 Department of Entrepreneurship organized a study visit to Institute of Modern Services of Zhejiang Shuren University, Hangzhou City, Zhejiang Province, China and Canton Fair, Guangzhou, China from 10th April to 19th April, 2015 as an academic component of Master of Entrepreneurship Program. Mr. R.N. Weerasinghe, Head of the Department and Mr. Channa Gajanayake, Lecturer (Probationary), Department of Entrepreneurship guided 18 Masters' students.
The first part of the visit was attending to an academic program organized by the Zhejian Shuren University together with some industrial visits from 11th to 16th of April. Then Canton Fair, one of the world largest import and export exhibition visited by the group.
The both and the academics of the group were benefited with the visit through;
Obtaining international exposure on entrepreneurial education, global businesses and entrepreneurial management practices in a different context.
Understanding economy, politics, culture and the business practices of China.
Building effective networks between both universities and with industries in China.
Enabling Masters' students to engage in international businesses with Chinese firms exhibited in Canton fair.
Recognizing the Chinese way of leading markets through radical and incremental innovations in many areas.
Opening new pathways to effectively run local businesses through experiences accumulated.
There was a fruitful discussion between International Manager of the Zhejian Shuren University and the Head/ Department of Entrepreneurship about long term collaboration among two universities. Both parties agreed to share the facilities, staff and the students in future joint academic programs. Department of Entrepreneurship Highly appreciate the service rendered by Zhejian Shuren University and its staff including the Dean and Deputy Dean of Institute of Modern Service for conducting academic sessions and arranging industrial and site visits.