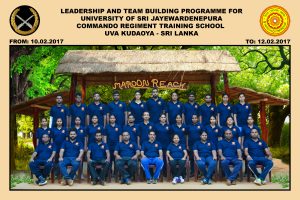 Postgraduate students of the MSc in Applied Finance program participated in an outbound training (OBT) on "Leadership and Team Building", organized by the Commando Regiment Training School (CRTS), in Uva Kuda Oya – Thanamalawila, from 10th to 12th of February 2017. This was an initiative by the course coordinator Dr. Wasantha Perera, in order to provide a valuable learning experience particularly for the students, away from the conventional classroom. From the academic staff, Dr. A.G.C. Gunathilaka and Mrs N.S. Nanayakkara also joined in order to accompany the students.
The event was organized and conducted by Major Nishantha Wimalasinghe and his team, as a series of fun filled yet challenging activities, mainly focused on building a great sense of belonging by forming trust in the relationships among students and staff, developing high-performance and energetic teams, creating open-minded, creative and competent leaders, reinforcing ongoing internal service quality and initiatives by having responsible and motivated teams and cultivating a positive, supporting and empowering culture.
After the introductory lecture, the participants were divided into four groups fortifying to strive for the league – "THE BEST TEAM". The battle commenced with the "Ice Breaking" events, each team aspired to be their best. These activities were structured in a manner to emphasize, the importance of collecting information, planning, execution, managing contingencies, building self-confidence, delegation and most significantly the power of "WE" as opposed to "I"- team work. Post event de-briefings by the trainers aided teams to identify shortcomings and areas of improvement. Aerial roping and rappelling events were a quite a challenge, yet for no doubt, assisted many students to overcome mental barriers created within and enhance self-confidence, to face the challenges in real life with courage and determination. Further the hiking session gave a great chance for the students to test their endurance and explore the beauty of the nature around the campsite.
The CRTS teams created a remarkable opportunity to continue the tradition by organizing a campfire, hence, provided a chance to rejoice success, showcase their talents, and dance to DJ music while reveling in happiness. The lecture and the practical based on event management emphasized several methods and ideas that would be highly useful in the corporate environment in managing/organizing special occasions. Finally, "The Best Team" was awarded to all at the Applied Finance postgraduate program. Students as well as the academic staff had an exciting three days and earned an invaluable learning experience that would help immensely to improve their leadership and team building capabilities. We are thankful to Major Nishantha Wimalasinghe and his team at the CRTS for the enormous support given to make the OBT a great success.