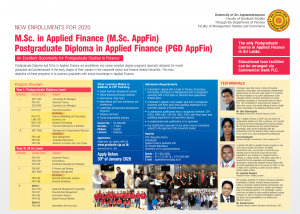 Postgraduate Diploma / M.Sc
in

Applied Finance
P
Postgraduate Diploma and M.Sc. in Applied Finance are practitioner- and career-oriented degree programmes specially designed for recent finance graduates and professionals in the early stages of their finance careers in the corporate sector and finance related industries.These postgraduate degree programmes are conducted by theDepartment of Finance under the Faculty of Graduate Studies (FGS).
The main objective of these programs is to produce graduates with sound knowledge in applied finance. After completing these programs, the students will be able to:
Identify, analyze, interpret and critically assess financial problems
Anayse financial data within a constantly evolving financial environment
Apply the techniques necessary to analyse and interpret data in financial practice
Analyse the international context and sensitivities of financial management and financial markets
Solve problems in corporate finance and financial markets, including those involving derivative assets and the operation of the markets in these assets
 

Programme of Study
The program of study includes two years. The first year consists of nine courses including electives. Each course carries three or four credit hours per week and fifteen sessions in a semester. Upon completion of the first year the student may obtain the Postgraduate Diploma in Applied Finance or proceed to the M.Sc. in Applied Finance degree program. The M.Sc. in Applied Finance degree program consists of six courses in the first two terms. In the third term student have the option of submitting the dissertation or studying for four credit courses. Those who select dissertation option should complete the dissertation within a five months period. On successful completion of both years the student is awarded M.Sc. in Applied Finance degree.
Contacts:
Prof(Dr). Wasantha Perera
Coordinator
Tel/Fax: +94112758878
Extension: 8878
E-mail: appliedfinance@sjp.ac.lk
---
Academic Staff
Internal
Senior Prof. Dr. K.D. Gunawardene
B.Sc. Bus. Admin. (Special) (SJP); MBA (Col); PhD (Computer Engineering Mgt) (Thailand)
Prof. Dr. Y. K. Weerakoon Banda
B.Sc. Bus. Admin. (Special) (SJP); MBA (Col); PhD (AUEB)
Dr. K.L.W.Perera
B.Com. Sp.(SJP); MBA (Thailand) PhD(Australia)
Dr. R. P. C. R. Rajapakse
B.Sc. Bus. Admin. (Special) (SJP); MBA (Col); MBA (Wakayama); PhD (Japan)
Senior Prof. Dr. D.B.P.H.Dissa Bandara
B.Sc. Pub.Admin. (Special) (SJP); M.Sc(SJP); PhD (Japan)
Dr. Chandana Gunathilaka
B.Sc. Acc (Special) (SJP); MBA(Col); MABE (UK); FMAAT (SL); FCA (SL); PhD (Malaysia)
Dr(Mrs).M.D.Pushpakumari
B.Sc. Bus. Admin. Special)(SJP); MBA(RUSL), M.A. Mgt(London), PhD(Japan)
Dr. Hilary E Silva
B.Com.(Special)(S JP); P.G.Dip (Lancaster); M.A. (Lancaste); PhD (USJ)
Dr. M.S.S.Perera 
B.Com.(Special(S JP) MBA(SJP) M.A. (Thailand); PhD(Australia)
Mr.Sampath Kongahawatte                                                                                                                                                           B.Sc in Finance(Special)(SJP);M.Sc in Finance(SJP)
Visiting Lecturers
 Prof.Dr.H.D.Karunarathne
MA (Econ) (Colombo); BA (Econ) (SJP); PhD & MA (Econ) (Japan)
 Mr. S.N.B.M.W.Narayana
B.Sc. Bus. Admin. (Special) (SJP);M.Sc(Manag ement) (SJP)MBA(Banking & Finance) (SJP)
 Mr.Sugath Alwis
B.Sc in Finance(Special) (SJP);CFA, MBA in Finance (Colombo)
Mr.Sandun Fernando
B.Sc in Marketing(Special)(SJP);CFA, MBA (SJP)
Mr.Sanjeewa Fernando                                                                                                                                                               BBM Accountancy((Special)(Kelaniya):CFA
Dr.Jayantha Dewasiri                                                                                                                                                                  PGD Dip Marketing(SJP);M.Sc in Applied Finance(SJP)
Mr.Hemantha De Silva                                                                                                                                                               B.Sc.  Mathematics (Peradeniya);M.Sc.(SLIIT); MBA (Colombo); M. Econ(Colombo), FCA
Mr.Nishan Fernando                                                                                                                                                                               MBA (SJP); ACMA (UK); FCA
---
Other Important Info