Our endeavor is to promote the best practices in business management and spirit of entrepreneurship live up to our leadership status in the sphere of business management education in Sri Lanka
The generation of entrepreneurs who are capable of revolutionizing the world challenging the tradition through innovation and, are capable of being creative destructors of the status quo has become a burning need of the era. Hence, the Faculty of Management Studies and Commerce, renowned as the centre of excellence in management education in Sri Lanka, invites both entrepreneurs, prospective entrepreneurs and entrepreneurial managers of Mother Lanka to join hands with the Department of Entrepreneurship, the precious centre for entrepreneurship, in to an intense period of personal and professional transformation that prepares them for taking up challenges in creating a prosperous motherland. Surprisingly for them, this would not be the destination, but would be a turning point in life that provides with the confidence and the required knowledge, skills and attitudes to achieve continuous professional development in the highly turbulent and competitive business environment and would help all the participants to have a victorious life.
Calling Applications for Master's Degree in Entrepreneurship
2019-2021
Applications are now called for Master's Degree in Entrepreneurship Program 2019-2021 organized and  conducted by the Department of Entrepreneurship of Faculty of Management Studies and Commerce together with the Faculty of Graduate Studies of University of Sri Jayewardenepura.
Application Closing date – 

15th August 2019 

Extended to 31st August 2019
Target Group
Entrepreneurs (those who own and manage their own business)
Managers and Executives
Academics in the field of business management and entrepreneurship
Management Consultants
Those who are planning to start their own businesses
Graduates planning for postgraduate level qualifications
Medium of Instructions
Master of Entrepreneurship (M.Entr.) programs will be conducted in English with brief explanations in Sinhala and papers will be given only in English.
[/su_column][/su_row]
Entry Qualifications
Completion of Advanced Diploma in Entrepreneurial Business Management (ADEBM) Program- and 3 year valid Certificate of Registration.

A bachelor's degree and 3 year executive/ managerial level experience.

A special bachelor's degree with a class /general bachelor's degree with a first class or second upper division from a recognised University

Postgraduate diploma higher degree from a recognised University with 2 years relevant experience

Completion of in NVQ level 7

A professional qualification approved by the Senate of the university.
Course Structure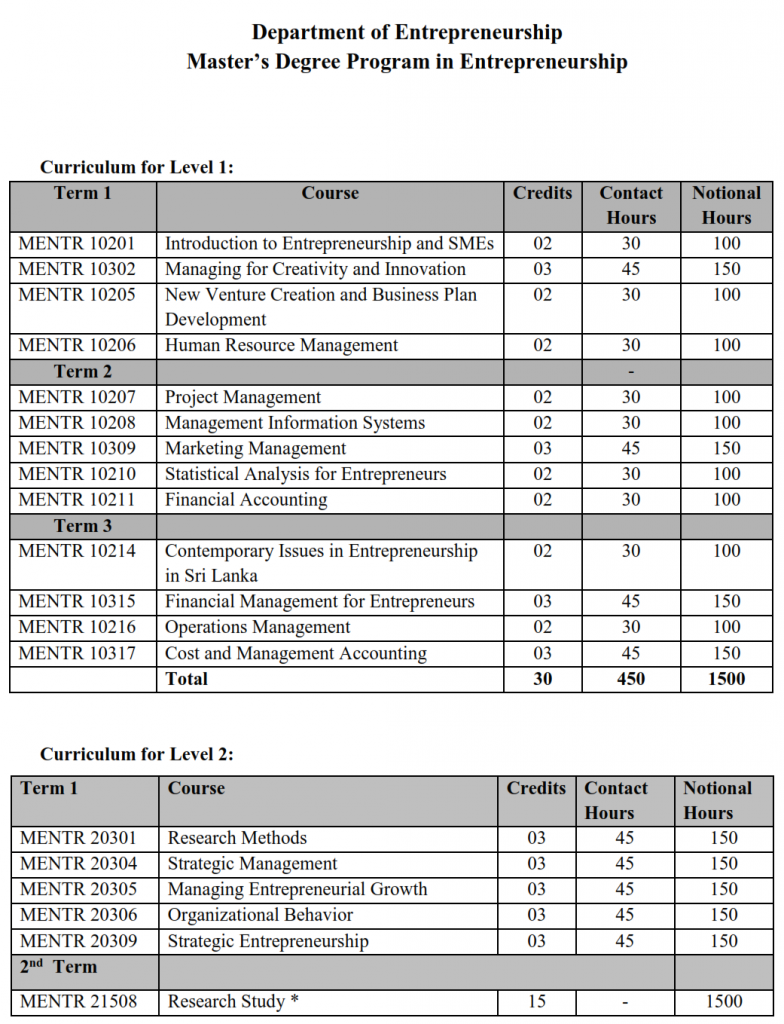 For More information:
Mrs. Sriyani Ranasinghe
Coordinator – MENTR
Department of Entrepreneurship
Faculty of Management Studies & Commerce
University of Sri Jayewardenepura, Gangodawila,Nugegoda, Sri Lanka.
Telephone No: +94 71 8 130 843 (Rukmal Weerasinghe)
+94 77 6 500518 (Sriyani Ranasinghe)
+94 11 2758823 (Ms. Prasadii)
Email: mastersent1@gmail.com