The Department of Finance has formed the Students' Association of Finance (SAF) in order to enhance the interaction among students of the Department and has made every possible endeavour to improve the value of the undergraduates in Finance. The SAF supports the objectives of the Department and at the same time, expects to initiate and maintain extracurricular activities to promote and facilitate the personality development, leadership skill development and to improve the harmony among students from diverse cultures.
The Executive Committee of the SAF and Team Leaders for different projects are appointed by themselves among the third year and second year undergraduates of the Department. The Senior Treasurer and the Senior Auditor are two academic staff members of the Department who are responsible for guiding and advising students in various issues arising when working together as a team.
SAF intends to:
To facilitate career development
To provide welfare facilities
To build and maintain a sound relationship with the corporate sector,
To encourage and facilitate students to actively participate in financial markets
To uplift the quality and value of research and training
To encourage members in the involvement of communal activities
SAF Latest News 
---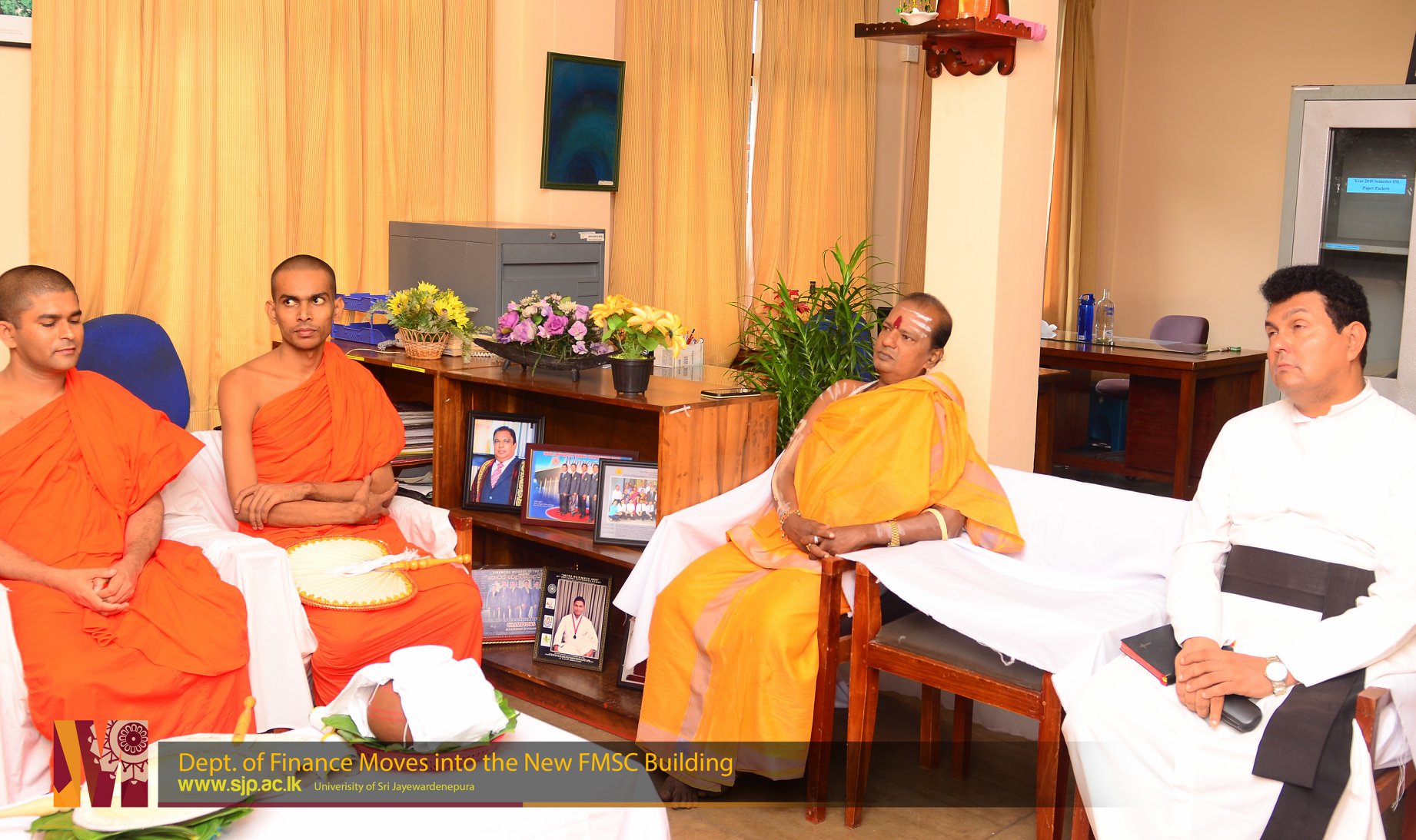 Department of Finance shifted the location of the department to the New FMSC building from the Sumangala building on 10th August 2018. In commemorating this special occasion, the Students Association of Finance (SAF) with the guidance of the academic staff, … Continued
0 comments
The annual activity plan of SAF includes organizing a sport event and annual get-togethers, organizing 'Snehadhara' Project and 'Nada' Talent Show and launching 'Financial Explorer' magazine.
The sport event and annual get-together are aimed at enhancing the interaction, building confidence and a good relationship among the undergraduates of the Department.
The 'Snehadhara' Project is a community service which selects a school from a rural area to support proving some needy resources for that school.
The 'Nada' Talent Show is a grand annual event organized by the SAF providing an excellent platform for the undergraduates of the Department and all the undergraduates of the Faculty to enhance their aesthetic skills, to improve the harmony among them and to develop their leadership skills and event management skills. The
'Financial Explorer' is the official magazine of SAF commenced with an aim of replenishing the readers thirst for financial knowledge. The Magazine targets all who have an interest in the world of Finance and its development. It updates the current trends and issues arising in both local and global financial markets, add knowledge on novel theories of finance.
Visit the offical page of the SAF for more details.