CALL FOR PAPERS: SRI LANKAN JOURNAL OF BUSINESS ECONOMICS, VOLUME 7
July 27, 2017 @ 12:00 am

-

October 31, 2017 @ 12:00 am
Event Navigation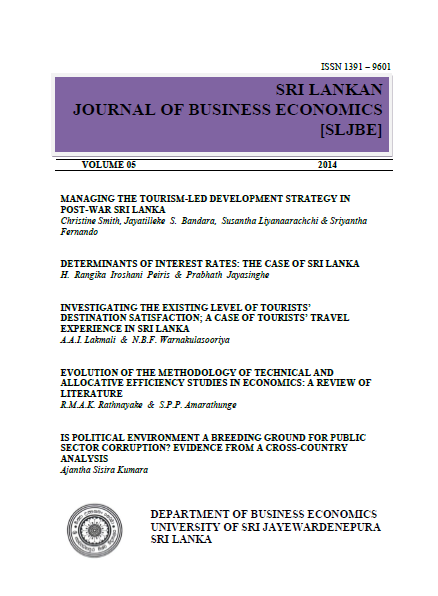 The Sri Lankan Journal of Business Economics (SLJBE) is a peer-reviewed journal published yearly by the Department of Business Economics, Faculty of Management Studies and Commerce, University of Sri Jayewardenepura, Sri Lanka. The SLJBE serves as a forum for disseminating and exchanging knowledge of business economics and related disciplines via high quality research employing both theoretical and empirical enquiry.
You are invited to submit original manuscripts, currently not under consideration by another journal, for publication in forthcoming volume (Volume 7) of the SLJBE. Please email full-length manuscripts in MS Word format at: sljbe@sjp.ac.lk
All manuscripts are subject to double blind review. The review process is expected take up to two-three months from the date of initial submission. As style guide, authors should follow the APA (American Psychological Association) Style, 6th edition, 2009.
Deadline for submission: 31st October, 2017
The manuscripts are invited in the following fields of research:
Accounting, auditing, and taxation; Banking and finance; Management and organizational behaviour; Corporate governance and finance; Economic development; Entrepreneurship and small business management; Environmental studies; International business; and, Public administration and policy
For any queries, please contact:
Executive Editor-SLJBE
Department of Business Economics
Faculty of Management Studies and Commerce
University of Sri Jayewardenepura, Sri Lanka
Email: sljbe@sjp.ac.lk; Phone: +94112802005