The Research Center for Management Studies and Commerce (RC-MSC) is newly established in 2015 and the first center in the faculty dedicated to management related research work. The Faculty of Management Studies and Commerce (FMSC) is the pioneering management faculty in Sri Lankan university system, which is regarded as the Center of Excellence in Management education in Sri Lanka.
The Research Center promotes and addresses academic as well as national issues in the field; establishes strong links between the FMSC and the industry in terms of research; and in general contributes actively to the economic development of the country. Consequently, the center provides opportunity for industry research in a variety of research projects in the field. It also offers a unique opportunity for postgraduate research candidates, faculty from visiting institutions, or post-doctoral students to further their studies and engage in collaborative research efforts with the faculty on their request. In addition, visiting scholars are expected from local as well as from foreign countries.
Presently, there are over 160 academic staff members including 16 professors and over 50 doctoral degree holders in the faculty.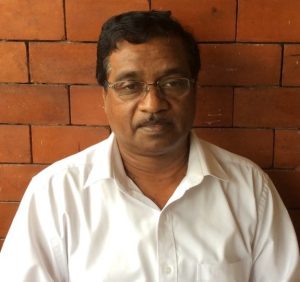 Prof. Y. K. Weerakoon Banda
Mission of the Center
The mission of the Center is to be a prime leading center for management research, knowledge creation and dissemination.
In order to fulfill our mission, the members of the Center have identified following strategies which define the research process.
Promote and facilitate the development of new research initiatives including sub-research centers and enhance broad-based and collaborative research efforts through single or multi-disciplinary fields.
Establish strong links between the FMSC and the industry in terms of research, undertaking consultancies from the government and private sector organizations including the SME sector.
Contribute actively to the economic development of the country
At present the center identified a number of independent research clusters:
Business strategy, competition and ethics,
Public policy and governance
consumer marketing,
Economics, trade and Commerce
Social & environmental issues
Entrepreneurship and business creation,
HRM and organizational Behavior,
Innovation and operations management,
Real estate & property development,
Information Technology,
Accounting and managerial Finance,
Financial Markets and institutions.
On going research projects:
Time management skills and academic success of state university lecturers in Sri Lanka.
Capacity building in war-widowed household in post-war Sri Lanka
For more information, please contact rcmsc@sjp.ac.lk.
Director,
The RC-MSC,
Faculty of Management Studies and Commerce,
University of Sri Jayewardenepura,
Nugegoda,
Sri Lanka.
Phone: (94) 11-2758348, (94) 11-2803343
Fax: (94) 11-2803653
Web : http://mgt.sjp.ac.lk/rcmsc/